I'm a Weeva Storyteller Ambassador. All opinions are my own.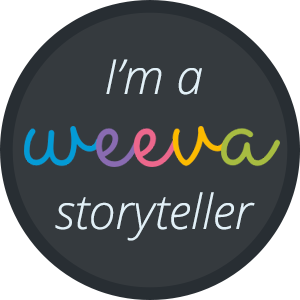 This month I am so excited to share that I am a Weeva Storyteller for the next few months. What that means is that I will be putting together memories along with family and friends about Mary. Our memories will be put into a "tapestry" and in a few months, the entire thing will be made into a lovely
keepsake book
for our family!
The theme I picked is about Mary growing up. I can't believe that my baby is already 7 years old! And we've already done so much and made so many memories that I don't want to start forgetting. So with some help, I will be putting all the memories and pictures into our Weeva tapestry so we can always look back at the fun we had with Mary growing up.
With Weeva, you work together with family and friends to collect your favorite stories in an online Tapestry; Once collected, you can print your stories in an art-quality book for yourself or someone else. Plus it's free to collect the stories. Weeva monetizes only when people order their beautiful yet affordable books.
If you'd like to learn more about Weeva, please check out their introduction video below.
And make sure to stay tuned for our updates over the next few months!