I am part of the Homeschool Review Crew. All opinions are my own.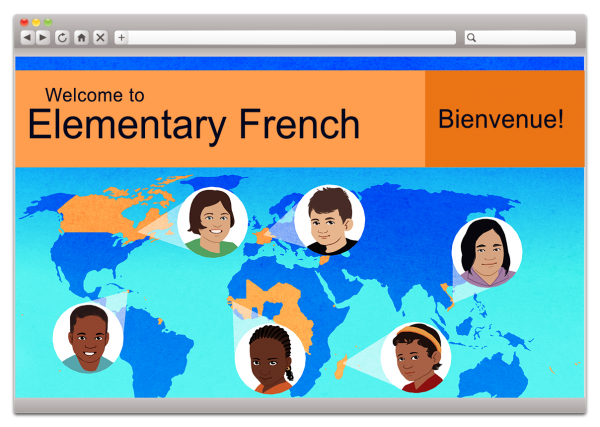 When I was in high school, part of our requirements to graduate was to take a foreign language for at least 2 years. In my school, there were only two choices: Spanish or French. Of course I picked French in a heartbeat because I have always been an artsy sort of person. I loved the way French sounded and I loved their culture and heritage. I had been drawn to it ever since Junior High so you can only imagine how excited I was to finally get to high school!
Even without any prior knowledge of French, I caught on really quickly too. I picked up the accent like I was a native speaker and always did well on my tests. So it was only natural that when I started homeschooling Mary, I knew I would teach her French as well.
I started Mary with French when she was about 5 years old. Back then it was very simple little things and our starting curriculum was pretty simple. It helped her learn a few words by watching the videos and she seemed interested in learning. As she got into 2nd and 3rd grade, I decided to find a new curriculum for her and it has been online. The entire program was over the computer and had her doing mini games and memorizing her words. She caught on really quickly and started speeding right through it.
But one day I sat down and wondered, what would happen after she finished her current program. There was only that program and no continuation from the makers afterwards. So that's when I started really looking for another program that was online as well. Mary learns the best with interactive online curriculum so that was what I was looking for. I also wanted a program that could carry her into high school levels as well. So when I found
Middlebury Interactive Languages
I knew it would be perfect. Currently Mary is on
Elementary French 1
and we love it.
What really makes
Middlebury Interactive Languages
really stand out is that they employ reading, writing, speaking and listening activities so kids truly learn their language. Currently they offer Spanish, French, German and Chinese in Elementary, Middle School and High School levels so there's something for everyone!
Right now Mary is at the elementary level since she is in 3rd grade. In the elementary level, you have different units and they each focus on a different story told in French. The students then do mini games to learn their vocabulary and remember new words.
In
Elementary French 1
, the first story was Little Red Riding Hood told in French. Of course Mary didn't understand what was being said, but she was able to follow along with the pictures. After listening to the entire story, she was then told to click the images to hear the new words. This lesson was learning greetings like Bonjour and Salut.
Another fun part is that further in the lesson, the kids get to practice saying the words because
Middlebury Interactive Languages
has sections for speaking into your microphone! I love this because it helps Mary learn the correct pronunciation even if I'm not in the room with her.
So far she is really catching on quickly to the point that she is remembering more words than I thought she would at this point. I love how
Middlebury Interactive Languages
really immerses kids into their language so they don't just memorize but they understand it as well.
If you're looking to have your children learn a new language, I highly suggest
Middlebury Interactive Languages
.
And make sure to read the rest of the Homeschool Review Crew reviews to see what they learned as well!