This post may contain affiliate links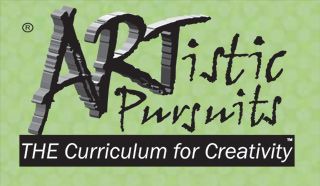 During our home-school days, Mary and I have never had an actual art curriculum even though she loves art very much. I just haven't been able to find one to suit her needs. But for the past month, we've been able to use
Artistic Pursuits
in our daily home-school routine. Although art is supposed to be once a week, we use it everyday because it helps Mary focus more on her other studies. It really opens her mind and helps her think so that's why we use it daily.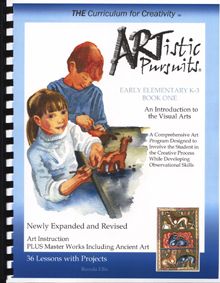 The book we received to review was the Early Elementary K-3 Book One: An Introduction to the Visual Arts by ARTistic Pursuits. The ARTIstic Pursuits program includes a whole series of newly revised, comprehensive art instruction books for students in Preschool-12th grade.
The approach of the program is a gentle introduction to various aspects of art so that children can express themselves freely and are not held to rigid standards that force them to draw like an adult, for instance. It takes children through exposure to the elements of art and composition, art history, media, and techniques.
The Preschool through 3rd grade books include 36 lessons each, and books for all grades from 4th through 12th include 68 lessons.
PRICE: $47.95
Our book, which was book 1, was an introduction to visual arts and included drawing, painting, paper art, and clay. What's very nice about the curriculum is that in the beginning of the book, it gives you a list of the materials you'll need for every lesson which makes shopping super easy. Of course, I improvised on certain materials, but I would only recommend this if you know that it won't affect the outcome of the project.
Each lesson is usually around 2-3 pages and starts with the kids exploring a classical work of art and answering questions about it, and then on to the techniques of how the piece was done. Then it also explains how you can create something with the basic knowledge from the lesson and art.
What's great about this curriculum is that after I go through the first page with Mary and have her look at the piece of art, she is off to do her work without help from me which is a first. In all our other subjects, she still needs my help, so when art time comes, I am free to check her other work or even do chores. I also like how the curriculum lets kids know that art comes from within and there's no right or wrong way to do it.
I truthfully think this will be a staple in our home-school for years to come. Mary likes how the lessons are straightforward and I like how I don't need to plan for them at all other than to gather supplies.
Check out what other Crew members had to say about this and other products from ARTistic Pursuits!
Disclaimer: I received a free copy of this product through the Schoolhouse Review Crew in exchange for my honest review. I was not required to write a positive review, nor was I compensated in any other way. All opinions expressed are mine or those of my family. I am disclosing this in accordance with FTC Regulations.