I am a member of the Schoolhouse Review Crew. All opinions are my own.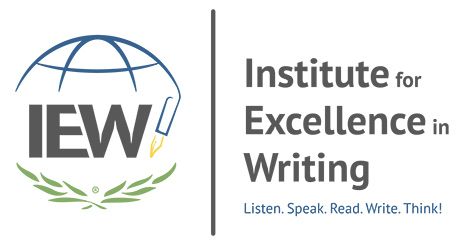 For the past month, Mary and I have been learning a lot of different poems thanks to the Institute for Excellence in Writing and their Linguistic Development through Poetry Memorization.
When I was a little girl, I had a great love for poetry. Even as a young girl, I can remember always loving to read poems and write them too. I loved poetry so much that I would keep a book of poems that I would write in my room.
In the fifth grade, I remember my teacher having a poetry contest. The winner would be published in a book from the State of Florida. The poem I picked was a Haiku and even though it was short and sweet, it won. I was so proud, especially to see that poem in a published book.
After that, I entered a lot of other poetry contests and won throughout the years. And as I got into high school, I delved into reading deeper poetry and finding the hidden meaning in them. My two favorite poets were always Emily Dickenson and Edgar Allen Poe. I guess you can say I always had a dark soul back then.
The final poem I entered into a contest was in high school and it was a dialogue. In a nut shell, it was about a solider in the French Revolution and he was about to die. That poem won a contest out of everyone in my county and I received a cash prize for it too.
So you can tell my excitement for being able to share a wonderful love of mine with Mary. Poetry always made me look deeper into things so of course I was happy to share this love with Mary.
From IEW, we received their Poetry Memorization materials that included the Teacher book, a bonus Student Workbook (this is normally an extra cost. A PDF is what is included in the set) , A DVD, CD's and 7 Audio MP3s.
Even though the Student Workbook isn't included in the normal set , IEW has a very generous photocopy policy that lets you photocopy the Student Workbook for all your kids! So each kid can have their own book which is great if you have multiple children.
IEW recommends that every child starts out on level 1, no matter the age. That was fine with Mary since she is 8 and likes the type of silly poems that are in Level 1. Our first poem was about a worm that we both had memorized in about 5 minutes. It was funny plus we were able to go in depth with our lessons. I am a firm believer of unit lessons and love using them in homeschool. When we learn about something, regardless of if it was from a poem or maybe something we saw in a show, we go in depth to study it more. So since our first poem was about worms, I decided to do a unit study that day about worms to really go in depth.
After our normal lessons and then memorizing the poem, we read a book about worms together, did a worksheet on them and then decided to do a science lesson with them. We're going to get a jar and fill it with dirt after it rains. Then we'll find a worm to put in the jar so we can study him.
To use the Poetry Memorization set, it's best to read a poem everyday until you have it memorized. Then you move onto the next one. Since we finished the worm poem quickly, our next one was about celery.
The celery poem was super easy too so we also did a unit study on stem vegetables along with a science experiment on celery with dyed water. So far learning our poems has been a lot more fun with our unit studies on them.
The Linguistic Development through Poetry Memorization is available for $65 and I highly recommend it to anyone who wants to help their children learn memorization better.